Affordability: Can Insurance Cover Invisalign Cost?
Investing in your smile is important, but also expensive. While we wish that cosmetic treatment and orthodontic coverage were guaranteed for everyone, dental insurance companies often cover only part or none of Invisalign treatment costs.
Between check-ups, tray costs, and complications, you could be looking at thousands of dollars to transform your smile. Insurance is an important way you can reduce your expenses and make orthodontics more affordable for your family.
Today, we're going to be going over Invisalign costs, coverage, and what you can expect when talking to your orthodontist about affordability. Knowing what to expect is half the battle – so let's talk about Invisalign and your payment options!
Does Dental Insurance Cover Invisalign?
Dental insurance can feel confusing, overwhelming, and scary – even more so when you're trying to figure out if you can afford your smile transformation. Many dental plans cover a percentage or a dollar amount of your orthodontic costs, including Invisalign. But it depends on your dental insurance plan and whether or not orthodontia is included.
How Much Does Invisalign Cost?
The treatment cost of Invisalign varies based on how simple or complex your crooked teeth, misaligned teeth, or bite problems are. On the low end, Invisalign costs an average of $3,000 to $5,000 dollars. If you have complicated dental problems, orthodontic treatments can cost as much as $8,000 or more for Invisalign clear aligners.
The more time you need for orthodontic treatment, the more it will cost. Whether you're looking at traditional braces or clear aligners, the total cost varies based on your unique smile needs.
Does My Plan Include Invisalign?
It isn't necessarily hard to find dental insurance that covers orthodontics to some degree, though that insurance may vary based on age and how you're getting your insurance.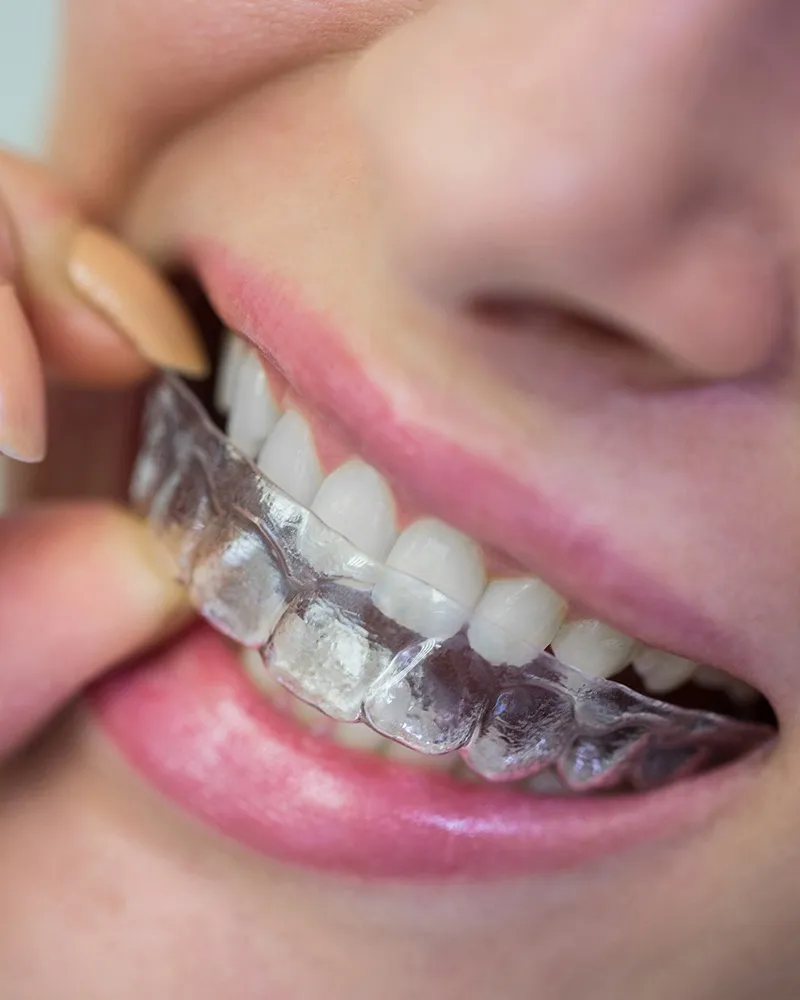 There are two ways to get health insurance: talking to an insurance provider yourself or signing up for a dental plan through your employer. Talk to your HR rep, benefits manager, or insurance company customer service line to find out what dental work is covered under your plan. Many plans cover orthodontic care optionally, meaning that they'll cover traditional braces or clear aligners to straighten teeth – but only if you or your employer have opted in.
While Invisalign coverage isn't guaranteed, Delta Dental, Cigna, Humana, and Aetna are known for having good coverage in the dental industry.
Benefits that Impact Many Dental Insurance Plans
How Much Dental Insurance Covers – Similar to how insurance will partially cover braces, Invisalign insurance coverage is almost never comprehensive coverage. You will always have some amount of out-of-pocket costs to consider. If your insurance covers Invisalign treatment, they will either pay a percentage or a dollar amount.
Network Restrictions – Every licensed dentist and orthodontist has a list of dental plans that they take. The amount of partial coverage that your plan has will also change based on whether the doctor is in-network or out-of-network.
Age Limits – Most dental insurance plans will cover Invisalign treatment for children and young adults, up to age 19. Plans are far less likely to cover orthodontics for adults – something to check when you're looking at insurance.
Lifetime Maximums – Sometimes, there is a lifetime maximum for how much insurance will cover, meaning that you'll have to pay money to make up the difference. The lifetime limit is usually between $1,000 and $3,000.
Waiting Period – If you've recently acquired dental coverage, there may be a waiting period before you can use your benefits. This time is usually between 6 months to a year.
Keeping Invisalign Affordable
When you visit your orthodontist to discuss treatment, they'll go over all of your options for keeping treatment affordable. From affordable monthly payments through financing to HSAs, there are plenty of other ways to cut down on the exact cost of your Invisalign retainers or traditional metal braces.
Health Savings Account / Flexible Savings Account – With an HSA or FSA, you can use tax-free dollars to pay for treatment or get reimbursed for your time with Invisalign.
Discount Dental Services – Many offices offer dental savings plans on certain services, where you pay a monthly or annual fee for discounted services.
Payment Plans – In-office payment plans can make treatment more affordable than ever. Many ortho offices offer low-interest payment solutions designed to let anyone afford their smile adjustment.